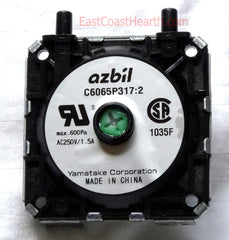 Vacuum Pressure Switch- Piazetta- PZRP.RG07070050
Vacuum Switch for Piazetta Pellet Stoves. Part PZRP.RG07070050. The vacuum  switch is a safety switch that shuts the pellet stove down if the combustion (Exhaust) blower fails.
If your pellet stove starts up then stops feeding pellets after the start cycle is over, then the vacuum switch is bad or the vacuum line is clogged with ash.  Also,

if the auger motor does not turn you may have a bad vacuum switch.
Note: The Original Honeywell Vacuum switch as shown in the picture was discontinued because it is no longer available
The replacement vacuum switch is the same part number but looks different and the price has been reduced.
This hopper lid switch fits ALL Piazetta models including:
#960
#961
#962
P955
P956
P957
Monia
Marcella
Sabrina
Sveva