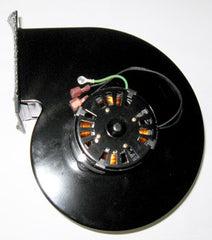 Large Convection (Room) Blower- Englander 25-PDV (PU-4C447) 250 CFM- 44273
Large Convection Blower for England Stove Works wood pellet stove. This blower blows the heat into the room and turns on when the stove warms above 120 Degrees. Part # PU-4C447 (250 CFM). For 25-PDV after 2002 and models below.

We offer a 10% discount off this Englander convection blower. Enter ENGLANDER1011 at checkout to see savings.
The following is required for processing, please provide under "Add a note to your order" at checkout:

Stove's model (Example: 25-PDV)


Manufacturing date

Serial (Example: 003578) #

Phone #

These can be found on a metal plate on the back of your stove.
Fits the following Englander pellet stoves:

25-PDV (After 2002)


25-PDV E(After 2002)

25-PI (After 2002)

55-SHP22

(After 2002)



55-SHP20

(After 2002)



55-TRP22

(After 2002)



55-TRP20

(After 2002)



55-SHP22L

(After 2002)



American Heritage

(After 2002)




25-PAH (Pellet Auxiliary Heater)

55-SHPAH (Pellet Auxiliary Heater)

55-SHPAHL (Pellet Auxiliary Heater)

55-TRPAH (Pellet Auxiliary Heater)

25-IP

25-IPM

25-IPS

55-SHPIP

55-SHPIPL

55-SHPIPM

55-SHPIPS

55-TRPIP

55-TRPIPM

55-TRPIPS

25-PUF (Pellet Utility Furnace)

55-SHP240

55-TRP240

10-CPM

49-SHCPM

49-TRCPM

10-CDV
Related Products