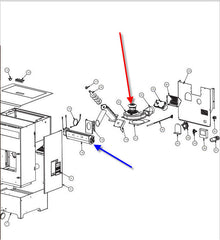 Convection (Room) Blower- US Stove King KP60 Ashley AP60 Vogelzang- 80834- 2 male clips- Special Order
U.S. Stove Convection (Room) Blower for King KP60, Ashley AP60, or Vogelzang VG60 pellet stoves. Part # 80834. The convection (room) blower draws the room air in through the back of the stove into the heat exchanger and out the front. This creates the warm air that heats the house. It is a long cylinder squirrel cage with motor on the end.
See Blue arrow in Diagram
This is a special order item. Please contact us for details.