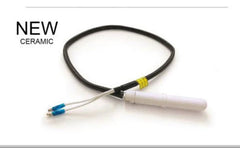 GMG 12 VDC Ceramic Igniter- Ledge & Peak Wood Pellet Grill- Replaces GMG P12V-1028- GMG P-1271
GMG 12 VDC 80 watt Igniter for Ledge and Peak Wood Pellet Grills. Part # GMG P-1271. Replaces part # GMG P12V-1028.
This is an upgraded igniter for the GMG Prime Daniel Boone & Jim Bowie Grills. It is a direct replacement for the Prime Plus Daniel Boone & Jim Bowie Grills.
This new ceramic igniter heats up faster and lasts longer (Approx 100,000 cycles) Care must be taking when vacuuming ash under the igniter in the burnpot to not crack or break the igniter especially when it gets older.
If your grill was made or purchased before 2019 then it probably needs the Old Choice 110 VAC igniter. Click here
Related Products