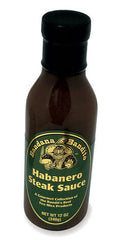 MHP BBQC3 - Habanero steak sauce- Special Order
Want a little bit of heat along with a lot of flavor? It's not that hot and when you tire of pouring the sauce out for your steak, make yourself a chicken sandwich, then pour some of this steak sauce into a bowl and dip the sandwich into the sauce. Try this tasty baked beans recipe with Habanero Steak Sauce.
Also try our other BBQ Sauce and Rub
This is a special order item. Please contact us for details.
Related Products