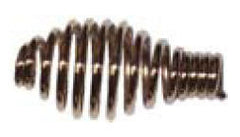 Pelpro/Glowboy/Cheap Charlie Coil Spring Brass Handle- KS-5140-1441- Special Order
This spring fits on the end of the 1/2" steel handle shaft. Part # KS-5140-1441.
Fits the following Pel Pro pellet stoves:
FPP2BD
FPPST4BD
FPPBW2GD
IPPBW2GD
HHPP2BD
HHPP32BD
HHPP2BD
HHPP32BD
Fits the following Glow Boy pellet stoves:
CCGB1
CCGB2
HGBH1 Home Heater
HGBH3 Home Heater 300
HGB1 Shop Heater
HGB3 Shop Heater 300
This part is a special order item. Please contact us for details.
FBG Step Top
FGB Bay View
IGB Bay View
Classic Insert
Related Products