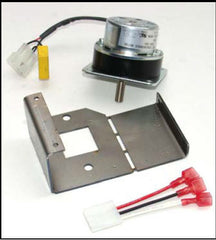 Quadrafire/ Heatilator 2.4 RPM Auger Feed Motor - 812-4421
2.4 RPM Auger Motor for Quadra-Fire and Heatilator Eco-Choice pellet stoves. This is a 2.4 RPM synchronous auger motor or feed motor with a 1/4 inch diameter, counter clock-wise rotation shaft. Includes the motor, mounting bracket, wire adaptor, and instructions.
Replaces motor # 49TYZ-120B1
Fits the following Quadra-Fire pellet stoves:
Castile
Contour
Mt Vernon
Santa Fe
1200 
Heatilator Eco-Choice stoves:
This is the Quadra-Fire OEM part # 812-4421. Replaces Quadra-Fire part # 812-4420.
If your motor tag has the following numbers, this feed motor will work for you:

Motor Tag:
49TYZ -120 B1 Synchronous Motor NO. 0917
Part No. 7000-500
AC120V 60Hz
50 (60) ma 6W 2.4 RPM
Z P CLASS: B cRUus E228950
Here are the Quad Motor Specs on the box it comes in:
Part # 812-4421
Desc: FEED MTR CONT/CAST/121/12
Order Nbr: 197155
Production Date
Order Type
Disposition UM