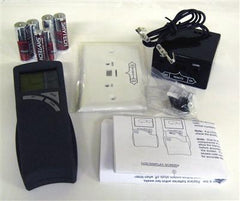 Skytech Remote Thermostat ( T-Stat ) for Englander Pellet Stoves - & B-Vent- Gas Units- Replaces AC-3003- SKY1001THA
Skytech Remote  Thermostat aftermarket replacement for Englander T-Stat Part # AC-3003. Will fit your existing Englander, Summers Heat or Timber Ridge Pellet stove (fits all pellet models with manufacture date After 2004.

NOTE: Will Only work in Hi-Low mode on Double Auger Stoves such as 25PDV & PDVC so it will turn the heat level down to heat level 1 when the thermostat does not call for heat. It will Not work on stoves with the old Knob control panel.

(NOTE: It Does work with multi-fuel stoves (stoves with CPM in model number), and DOES work with our pellet stoves with "EP" or "PAH" or "IP" in model number in On-Off mode so it will turn the unit off when no heat is needed).
On most stoves just connect the receiver to the T-Stat terminals on the back of the stove or control panel
To speed up processing and ensure you receive the correct part, the following is required. Please provide under "Add a note to your order" at checkout:

Stove's model

#

(Example: 25-PDVC)


Manufacturing date

Serial (Example: 003578) #

Phone #
Related Products