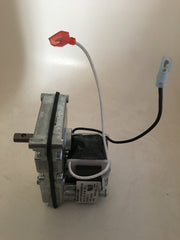 1 RPM High Quality 901H Auger Motor (hole in shaft): Replaces Breckwell C-E-017 - CCW from rear with 1 male (white) 1 female clip (2003 & newer) (Non OEM) #GLAs901H#
This 1 RPM high quality 901H auger motor fits Breckwell Pellet Stoves newer than 2003 as well as some old P22 and P23 stoves:
Breckwell 1 RPM clockwise rotation part # C-E-017. Fits models P22, P23, P24, P2000, P2700, Big E and Classic Cast Model.
115 Volts  FLA/LRA 0.72 Amps  1 RPM


Continuous duty, Impedance Protected
1 in. x 3/8 in. shaft
 Compatible models:
P22 Maverick - All Units

P22I Maverick Insert - All Units

P23 Sonora - Serial # 7166 to Present, and Units BEFORE serial # 6332

P23I Sonora Insert - Serial # 2243 to Present, and Units BEFORE serial # 1916

P24 Blazer - Serial # 53664 to Present

P24I Blazer Insert - Serial # 53795 to Present

P1000 Big E - All Units

P2000 Tahoe - Serial # 11780 - Present

P2000I Tahoe Insert - Serial # 22208 - Present

P2700 Mojave - Serial # 8445 - Present

P4000 Classic Cast - All Units 





Serial numbers are approximate. Please contact us with any questions.

Most older Breckwell models take a 4 RPM auger motor-

click here to view
The auger motor turns the auger, which transfers the pellets from the hopper to the burn pot. It feeds the fire and keeps the flame going. The auger motor must be replaced if it slows down or skips under a load (gears are stripped in the gear box when turning the auger.) See below for compatible models and specifications. In older stove models the auger may stop when the stove gets hot. This may mean the auger motor needs replacing. Please consult a professional in your area to determine that this is the issue.
We also sell a Breckwell Value Update Kit including a Control Board, Auger, and Auger Motor
A hitch (cotter) pin is need to attach the auger to the auger motor. Click here to view:
-----------------------------------------------------------------------------

115 Volts  SP/Open  .5 Amp  1 RPM