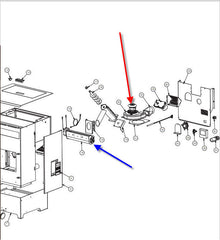 Combustion (Exhaust) Blower- US Stove King KP60 Ashley AP60 Vogelzang- 80782- 2 male clips- Backordered
U.S. Stove Combustion (Exhaust) Blower for King KP60, Ashley AP60, or Vogelzang VG60. Part # 80782 pellet stoves. The combustion (exhaust) blower blows the smoke out of the house. It has a round impeller with a motor on top.
See Red arrow in Diagram
Backordered until May. This is a special order item. Please contact us for details.