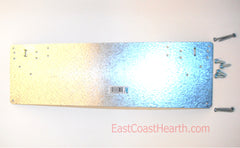 Plumbers Plate- Venting Support- Pellet Stoves
Plumbers plate for pellet stove venting support. Comes with sheet metal screws, and wood screws. Plate is 16 inches to attach to studs in sheet rocked walls. T
he pellet chimney wall strap can be bolted to this bracket using sheet metal screws.
We are currently offering a 10% discount on all venting and accessories. Enter VENT10 at checkout to see savings.
This wall strip can also be purchased as a value Venting Support Kit including Wall Strap and a Plumbers Plate. Click link below.