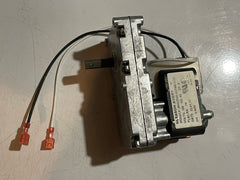 4 RPM Auger Motor- Magnum Countryside # 904 - CCW- Includes 2 jumpers w/ female clips on each end
4 RPM replacement auger motor #904 for Magnum pellet stoves. Replaces part # MF3573 or MF-3573. This motor is the highest quality gearbox motor made by Gleason-Avery with stall torque at 160 in lbs truly the workhorse of the line to help prevent auger jams compared to other common motors that are approx. 140 in lbs. Uses needle bearings. Longer lasting than ball bearings. This rugged motor is our most popular gearbox motor based upon superior performance. It has a counterclockwise rotation on the shaft viewed from the rear. It comes with two female clips. It has been engineered for ultra quiet operation. The auger motor must be replaced if it slows down or skips under a load (gears are stripped in the gear box when turning the auger.) In older stove models the auger may stop when the stove gets hot. This may mean the auger motor needs replacing. Please consult a professional in your area to determine that this is the issue.
Fits the following Magnum pellet stoves:
MagnuM Countryside Fireplace Insert

MagnuM Countryside Pedestal

MagnuM Countryside Queen Ann Leg Unit

Magnum 6500 Furnace

Magnum Countryside 3500
Auger motor comes with two female clips and turns CCW when looking at it from the rear.
Note: Although your 4 RPM Magnum auger motor with fan blade usually has female spade lugs, please check. There are some cases where they do have male spade lugs, therefore if so then please put "Male Spade Lugs" in the Order Note field and we will put those on for you instead. MF 3573

Related Products