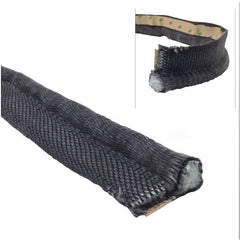 Harman Advance Door Gasket OEM 2-00-71611- 81 inches long- 1-1/2 x 7/16 inches thick
High quality replacement Rope Fire Door Gasket for Harman Advance pellet stoves. Part # 2-00-71611 81 inches long 1-1/2 x 7/16 Inch Thick; It comes slightly longer than needed to trim to an exact, snug fit.
If the Harman gasket regular 3/8 inch rope # 1-00-00888 order here

Note: To replace this tadpole gasket remove the nuts brackets and brackets. The flat portion of the tadpole is placed under the bracket.