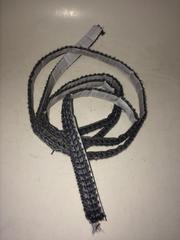 Ash Pan Gasket- Hudson River Chatham / Daveport / Kinderhook- 11/16 Inch Flat W x 10 feet - Self Stick Tape gasket
Upgraded replacement Pedestal and Ash Pan Door Gasket for the Hudson River pellet stoves below. Long lasting high quality graphite rope. Flat gasket 11/16" wide, 10' Long.
Fits the following Hudson River Pellet Stoves:
Chatham
Davenport
Kinderhook
Enviro part# EF-208
Replaces part# EF4i-055 and EF-055
More durable and long lasting than OEM.